On 05.01.2023 the student of Dr. K Shivram Karanth Government First Grade College – Bellare Visited Seon Ashram along with their Faculty Mrs. Archana (Co-coordinator of MSW Department), Mrs. Rasmitha (Dept. of Social work), Mrs.Yashoda B (Dept. of Social work) and Mr. Kiran Kumar (Dept. of Social work) as part of their Social work field.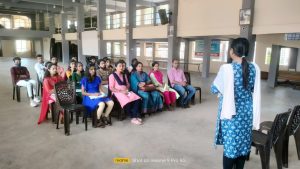 Mrs. Sandhya Subhash (Manager of Seon Ashram) gave the orientation and explained the history of seon ashram also gave the direction and service rendered in the seon ashram.
Mrs. Rashmitha gave a positive stroke and highlighted the service done for the Suffering Humanity. The Students visited the wards of the inmates and interacted with them.
All together 24 BSW Students were Present.