God is good – each day he gives us the strength and wisdom.
We join for prayer four times a day and hold a mass each Friday to pray god for support, thank him for everything we received and ask for his forgiveness.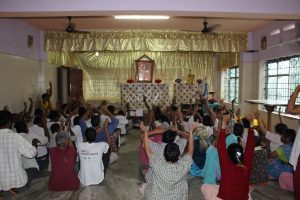 Praying is our only way to offer you something in return for your interest and every kind of support. That is why we invite you to share your wishes and concerns with us and we will include them in our daily prayers. Of course every prayer request will be treated anonymously.
You can send your prayer request via Email to [email protected] or contact us via Phone. If there are any open question, feel free to contact us.
O Lord the Father Almighty. O Lord Jesus Christ, O Holy Spirit, through our Mother Mary, all the Angels and the saints and through all the people of God, we thank praise and glorify your name for the immense grace you have showered upon us and we wait anxiously for many more you have stored for us. We pray o Lord to make us worthy to receive them in your lawful way. O Lord forgive me for all the sins I have committed, have mercy on me. Help me to overcome sin and be devoted to you, Father Son and the Holy Spirit. In the name of Jesus, I command you Satan to get away from me, my family, from all God's children and from all that we posses casting yourself in the fire of hell.

IN THE NAME OF THE FATHER AND OF THE SON AND OF THE HOLY SPIRIT, AMEN

INFANT MARY PRAY FOR US: